Before you can receive your FREE application; Mircules DX Cluster LITE for the Mac you need to confirm your email right now.
Don't worry, it's easy!
Here's how:
Check your inbox with an email from us with the subject line: Confirm your subscription.
Click on the long confirmation link in the email.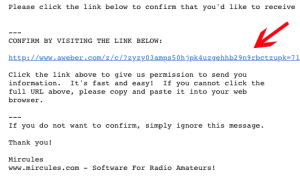 And we will send you an email with the link to the application!
Easy, right?
If for some strange reason you don't get your email after a few minutes check your spam folder.